Chinese Currency, Oil and a Tattoo
It seems that Congress will hold off on implementing tariffs against Chinese goods for now. However, they are moving forward to stop China from procuring a US oil company.
Senators Told China Will Loosen Policy On Currency
(Account Sometimes Required)
Often I feel like I am stuck in a Spaghetti Western.
The Good:
…a new confrontation erupted over the bid by a Chinese company to buy Unocal Corp., as the House overwhelmingly voted in favor of legislation aimed at blocking the Bush administration from approving the deal.
Twice in the last week Congress has shown some sense. First they moved against Supreme Court's deconstruction of the 5th Amendment. Now they may actually stop a hostile regime from acquiring American oil resources to use against America.
By a vote of 333 to 92, the House passed an amendment to an appropriations bill that would bar the Treasury Department from spending any money to approve the CNOOC takeover.
In both cases, Congress has used the power of the purse to do the right thing.
CNOOC's proposed takeover, coming at a time of rising oil prices and deepening congressional antipathy toward China's huge trade surplus, has been denounced by lawmakers worried that Chinese control over Unocal's reserves could deprive the U.S. economy of much-needed fuel.
Not to mention giving the Chinese needed reserves for their ever growing military.
Even if the legislation clears the Senate and becomes law, it wouldn't necessarily stop President Bush from approving the deal.
I realize Bush isn't running for office again, but I can't imagine what motivation he would have for approving such a deal.
The Bad:
Sens. Charles E. Schumer (D-N.Y.) and Lindsey O. Graham (R-S.C.), who sponsored a widely backed bill threatening to penalize Beijing for manipulating its currency, said they would postpone the legislation until later this year. Their announcement followed a meeting in the Capitol with Snow and Greenspan.
So Americans get to pay for China to take their time in fixing their corrupt system, assuming they are really going to follow through.
"They have convinced us that the likelihood of real progress in China on currency revaluation is very real and could well occur in a very short while, in the next few months," Schumer said.
I have some nice real estate in central Florida to sell you too.
The agreement by the senators to hold off on their bill defused a battle over Beijing's policy of fixing the value of the yuan at 8.3 per U.S. dollar. Critics contend that it gives Chinese companies an unfair advantage in international markets by keeping the yuan's value artificially low, making it almost impossible for many U.S. manufacturers to compete.
So six more months of Chinese currency manipulation. I wonder what the cost to the American worker will be.
The Ugly:
It seems that the Chinese aren't the only ones taking capitalism to the extreme.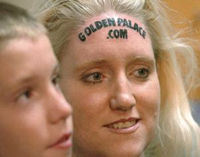 (AP)
Forehead for a price
I spend a lot of time arguing that people can think for themselves. Then someone has to make the libs point for them. Sometimes you just can't win.
In Sports:
Nats 4, Cubs 3