Kerry Praises Armstrong, No One Knows Why
Congratulations to Lance Armstrong for winning his seventh Tour de France. I'm not much of a cycling fan, but anyone who can torque the French to the level that Armstrong has is OK in my book.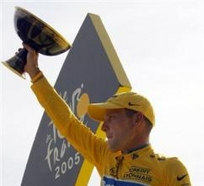 (AP)
In the spirit of Lance worship, I ran across the following. I will state right up front that this is possibly the most pointless post I have made. But this entire article is pointless, which is what makes it somewhat interesting to me. I have a terrible habit of trying to assess the purpose of news articles. This one has me stumped.
Kerry Likes Armstrong for Politics
Sen. John Kerry thinks Lance Armstrong would make a terrific politician — but fears he'd be running for the other party.
Are we supposed to care what John Kerry thinks of Lance Armstrong as a politician? I mean, is there some reason this is even an article? Stand by for tomorrow's article on John Edward's thoughts on Barry Bonds' chances were he to run for California Governor. Or Harry Reid's take on the viability of Tony Stewart as the next Supreme Court appointment.
"What's made him so special at the Tour de France, and as an athlete, is the level of focus, discipline, intelligence, strategic ability, and obviously, his endurance — his ability to just take it on and go," Kerry said.
I'm confused.
Those qualities would serve Armstrong well in politics, Kerry said. But Armstrong is also friendly with fellow Texan President Bush.
Now I'm more confused.
"I think he'd be awesome, he'd be a force. I just hope it's for the right party,"
Leave it to Kerry to bask in someone else's glory. I still can't figure out why it qualifies as news. If Lance were to run, I hope it would be for the 'right party' as well.
Kerry said he had tapes of last year's Tour delivered during his presidential campaign last year.


Delivered where, and for what? And who cares?
Armstrong, who plans to retire after this year's Tour, sealed a historic seventh straight victory Sunday. He has not ruled out a career in politics after he quits.

Maybe he will run for a Massachusetts Senate seat. I know he is from Texas, but that's just a formality.
In Sports:
Nats 1, Astros 4
From bad to worse.
.