Save the Chief!
I love college football. I hate PC bureaucrats that use their monopoly to enforce stupidity on the rest of society. So I am torn.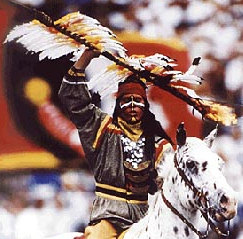 NCAA puts ban on Indian mascots
The NCAA banned the use of American Indian mascots by sports teams during its postseason tournaments, but will not prohibit them otherwise.
Well, if that isn't the most idiotic ruling I have ever heard. If your team makes the NCAA basketball tournament, you must change your name. I can't wait to see the Florida State Grapefruits.
The NCAA's executive committee decided this week the organization did not have the authority to bar Indian mascots by individual schools, committee chairman Walter Harrison said Friday.
Nicknames or mascots deemed

"hostile or abusive"

would not be allowed on team uniforms or other clothing beginning with any NCAA tournament after Feb. 1, said Harrison, the University of Hartford's president.
Hostile or abusive? I guess eventually every school will have an animal or fruit name. That is, until PETA joins the battle.
"What each institution decides to do is really its own business"
...unless we decide to insert our self righteous opinions into the playoff picture.
I wish the conferences would affiliate with the NIT. Now that would be sweet justice.
Florida State President T.K. Wetherell threatened to take legal action after the ruling.


"That the NCAA would now label our close bond with the Seminole people as culturally 'hostile and abusive' is both outrageous and insulting," Wetherell said in a written statement.
"I intend to pursue all legal avenues to ensure that this unacceptable decision is overturned, and that this university will forever be associated with the 'unconquered' spirit of the Seminole Tribe of Florida."
I never in my life thought I would be cheering for FSU...
...Go Noles!
Major college football teams also would not be subjected to the new rules because there is

no NCAA Division I-A tournament or playoff

.
Which makes me wonder if this isn't just another angle to deny us a playoff system.
Florida State has

received permission

from the Seminole tribe in Florida to use the nickname.
It seems the true 'Indians' have been screwed over by the hyper-sensitive 'Native Americans'. I have never understood the logic behind this movement. For names like 'Redmen' or even 'Redskins', I can see it. But Seminoles? Braves? Warriors? Come on!! Get a life. Is the goal here to write Native Americans and Indians out of American history? Totally disassociate them from anything not specific to NAI (Native American Indian) culture?
And to think the man running the show is the President of a pansy New England School that couldn't field a competitive team in the first place. Let's impose those PC New England standards on the rest of the country. By the way, the University of Hartford fields the mighty 'Hawks'. Perhaps this is simply hidden anger over the Kerry loss. Isn't Dean from Connecticut? Then again, Bush is always described as a Cowboy by the left, so that wouldn't fit.
Below are the affected schools:
• Alcorn State University (Braves)
• Central Michigan University (Chippewas)
• Catawba College (Indians)
• Florida State University (Seminoles)
• Midwestern State University (Indians)
• University of Utah (Utes)
• Indiana University-Pennsylvania (Indians)
• Carthage College (Redmen)
• Bradley University (Braves)
• Arkansas State University (Indians)
• Chowan College (Braves)
• University of Illinois-Champaign (Illini)
• University of Louisiana-Monroe (Indians)
• McMurry University (Indians)
• Mississippi College (Choctaws)
• Newberry College (Indians)
• University of North Dakota (Fighting Sioux)
• Southeastern Oklahoma State University (Savages)
Some of these I can understand; Savages, Redmen and maybe even Indians. But Fighting Sioux? What's wrong with that?! Braves! Don't even go there.
In any case, feel free to let the NCAA and Mr. Harrison know what you think. Here is his contact info at the University of Hartford.
(860) 768-4417
harrison@hartford.edu
Or you may contact him at the NCAA:
Phone: 317/917-6222
Fax: 317/917-6888
You will get an unresponsive lackey, but hey, there is a price to pay for being the front man to an official who knows what is best for the rest of us.
Other members of the committee can be found here:
NCAA Executive Committee
Disclaimer: I can't stand the Redskins or FSU, but the old saying applies:
The enemy of my enemy is my friend.
Consider this a backlash.
In More Sports:
Nats 5, padres 6
The one run game curse continues.
Chad Cordero blows the save. It's a bad day for chiefs all around.
.