Who are the Fanatics? (You Decide)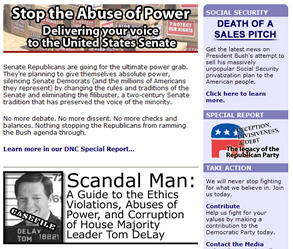 A review of the DNC and RNC sites is telling.
RNC
DNC
As you would suspect, the RNC site has a lot to say about Republicans. Surprisingly, so do the Democrats. In fact, both sites are entirely about Republicans.
Here are a few headlines from each as of April 19.
RNC:
President Bush Remarks At Dedication Of Abraham Lincoln Museum

President Remarks On Strengthening Social Security

Sign up to host your own GOP House Party!
(Trying to imagine this)
DNC:
DeLay makes more excuses:

As Americans Face Record Prices at the Gas Pump, They Continue to Wonder When Bush Will Take Action:

Republicans Continue 70 Year Tradition of Attacking Social Security:
They do have one thing to say about themselves…
DNC Launches Rural Radio Ad In Ohio
(Alert the Media!)
Draw your own conclusions.